March 13, 2018
Posted by:

range

Category:

FOREX, MARKET RESEARCH
In the G10 currencies, the top gainer is NZD, up 0.53% versus USD. JPY is the top G10 loser down 0.46% versus the dollar. In the Equities space, the Nikkei 225 has closed higher by 0.66% at 21,968. The European equities have also started the day on a positive note; FTSE is flat but DAX and CAC are up +0.1% and +0.2%, respectively. In the rates market, the US and Bund 10-year yields are consolidating after a drop
on Monday
with US 10-year at 2.88% and the Bund 10-year yield at 0.63%. In the energy space, the Brent front month is trading at $64.95, after failing to break $66.0 handle yesterday. In Europe, the key focus is likely to remain on UK spring statement by UK Chancellor of the Exchequer, Philip Hammond; however, we don't see any lasting impact from this. In the US, markets will concentrate on the US CPI at 1330 GMT; We see risk skewed to the downside from a data miss as AHE last week highlighted weakening inflationary pressure. For the rest of the week, the US retail sales, BOJ monetary policy meeting minutes will be key data releases. From Europe, there is no top-tier release this week.
USD-Index Daily chart (2-month)
Brent Front month Daily chart (2-Month)
Trade weighted basket Hourly chart (1-Week)
Major Currency Pairs
EURUSD Chart (Two-week)
Strategy: Support at 1.2289 for 1.2365
Short-term view:
EUR/USD has support at 1.2289 and MACD has entered positive territory. Hence, expect a bounce to 1.2365. Below 1.2289 to open 1.2255.
GBPUSD Chart (Two-week)
Strategy: Resistance at 1.3933 for 1.3819
Short-term view:
GBP/USD has resistance at 1.3933 and momentum is still weak. Hence, we may see a dip to 1.3819. Above 1.3933 to open 1.3979
USDJPY Chart (Two-week)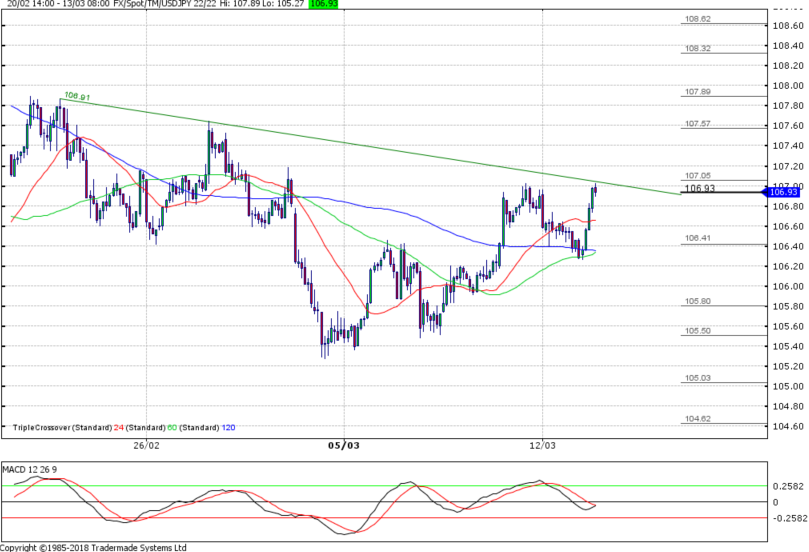 Strategy: Resistance at 107.02 for 106.41
Short-term view:
USD/JPY resistance line comes in at 107.05 and short-term momentum is still weak. Hence, we may see a dip to 106.41. Above 107.05 to open 107.57
AUDUSD Chart (Two-week)
Strategy: Resistance at 0.7892 for .7834
Short-term view:
AUD/USD has resistance at .7892 and MACD is turning from near the overbought area. Hence, we expect a dip to .7834. Above .7892 to open .7922