September 17, 2018
Posted by:

range

Category:

FOREX, MARKET RESEARCH
SEK and NOK are the top G10 FX gainers today, up 0.72% and 0.41% vs the dollar while CAD and USD are the top losers. The financial market's focus remains on trade war; US president Trump will announce new tariffs on Chinese goods worth $200bln. Though this is less than the US administration earlier plans, it does escalate the issue further. Elsewhere, Sterling remains supported due to renewed hopes of a resolution on Irish border issue ahead of the EU summit later in the week. In the Asian equities space, the Hang Seng closed -1.3% at 26932.85 and Kospi ended -0.66% at 2303.01. The European equities were trading mixed with the FTSE down -0.06% at 7304.25.49, DAX -0.09% at 12112.95, and CAC 0.05% at 5355.34. In the rates market, global yields were trading mixed; the US 10-year yield was trading at 2.994% and the Bund 10-year yield trading at 0.452%. In the energy space, the Brent (front month) is trading up (0.6%) for the day at $78.56.
Economic Calendar
10-Year Yields Daily Chart (6-month)
USD-Index Daily Chart (2-month)
Brent Front Month Daily Chart (6-month)
Trade Weighted Basket Hourly (one-week)
Major Currency Pairs
EURUSD Chart (Two-week)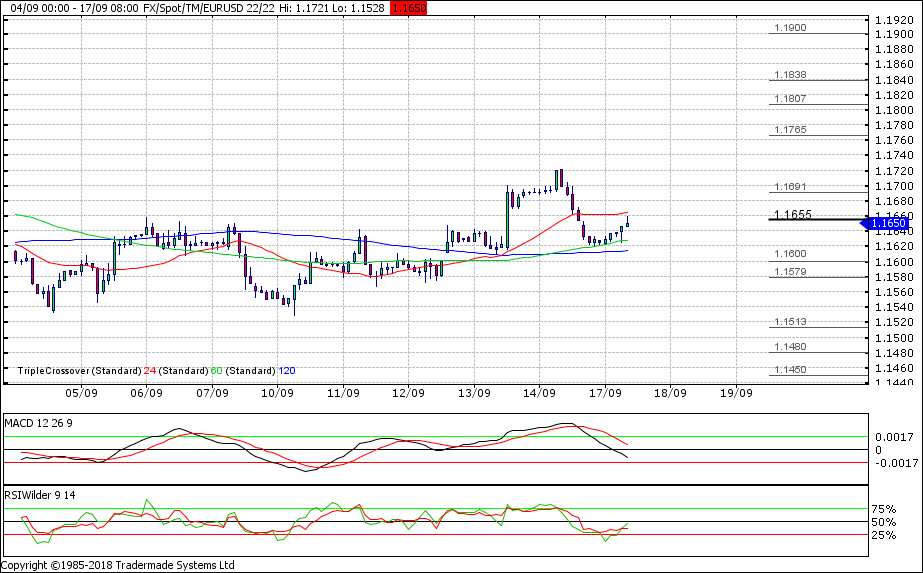 Strategy: Resistance at 1.1691 for 1.1600
Short-term view:
EUR/USD resistance comes in at 1.1691, MACD crossover suggests a bearish bias and RSI is below 50. Hence we see a downside to 1.1600. Above 1.1691 to open 1.1757.
GBPUSD Chart (Two-week)
Strategy: Support at 1.3043 and resistance at 1.3124
Short-term view:
GBP/USD short-term momentum is flat and we may see a choppy range between 1.3043 and 1.3124 a break either side needed to resolve short-term outlook
USDJPY Chart (Two-week)
Strategy: Resistance at 112.24 for 111.39
Short-term view:
USD/JPY resistance at 112.24, MACD is topping and RSI looking to move below 50. Hence, we see a downside to 111.39. Above 112.24 to open 112.60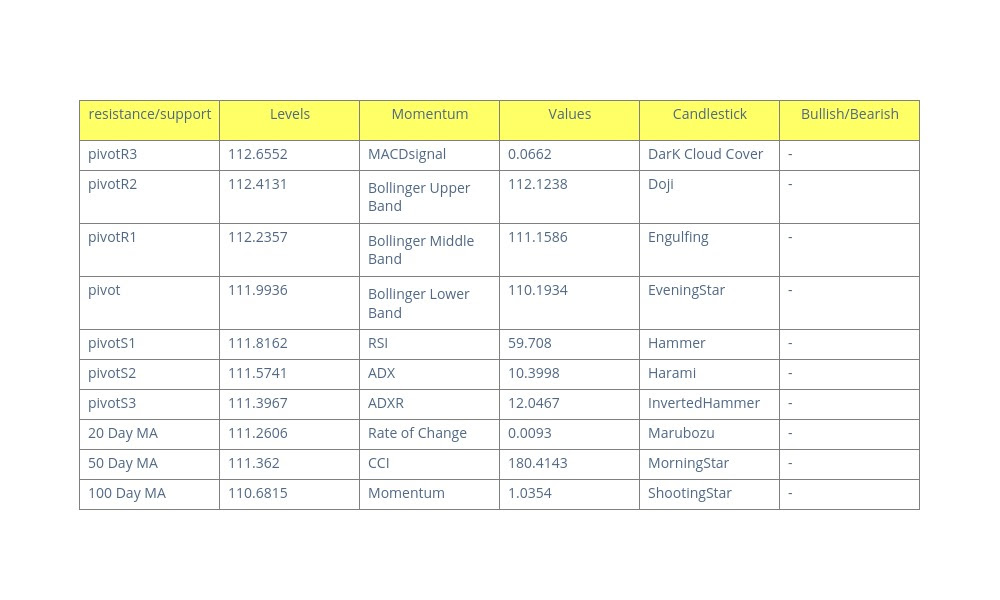 AUDUSD Chart (Two-week)
Strategy: Resistance at 0.7196 for 0.7130
Short-term view:
AUD/USD short-term momentum is flat and we may see a choppy range between 0.7163 and 0.7227 a break either side needed to resolve short-term outlookc
BTCUSD Chart (Two-week)
Strategy: Support at 6411.24 and resistance at 6611.53
Short-term view:
BTC/USD short-term momentum is flat and we may see a choppy range between 6411.24 and 6611.53 a break either side needed to resolve short-term outlook