August 26, 2019
Posted by:

range

Category:

FOREX, Technical Analysis
NZD and SEK are the top G10 FX gainers today, up 0.28% and 0.1% vs the dollar while GBP and CHF are the top losers, down -0.38% and -0.28% vs the dollar.
The EUR fell as the U.S. dollar gained broadly ahead of the Federal Reserve Chair Jerome Powell address at the Jackson Hole symposium of central bankers at 1400 GMT. The market is overly dovish on U.S interest rates despite other Fed members signaling a reluctance to cut U.S. interest rates further. Investors will be keen to see whether he errs on the hawkish or dovish side.
The British pound was down once again following the sharp gains seen on Thursday after German Chancellor Angela Merkel gave Britain 30 days to come up with the Brexit Plan. Elsewhere, the New Zealand dollar rose after RBNZ chief said he was 'pleased' with the current interest rates. The central bank of New Zealand Governor Orr said that a 50 basis point rate cut might be enough for now.
In the Asian equities space, the Nikkei 225 closed up +0.40% at 20,710.91, Hang Seng closed 0.5% at 26179.33 and Kospi ended -0.14% at 1948.3. The European equities were trading firm with the FTSE up +0.69% at 7177.44, DAX up +0.45% at 11800.06, and CAC up +0.44% at 5412.15. In the rates market, global yields were trading firmer; the US 10-year yield was trading at 1.6557% and the Bund 10-year yield trading at -0.623%. In the energy space, the Brent (front month) is trading up (0.05%) for the day at $59.95.
Economic Calendar
10-year Yields Chart (6-month)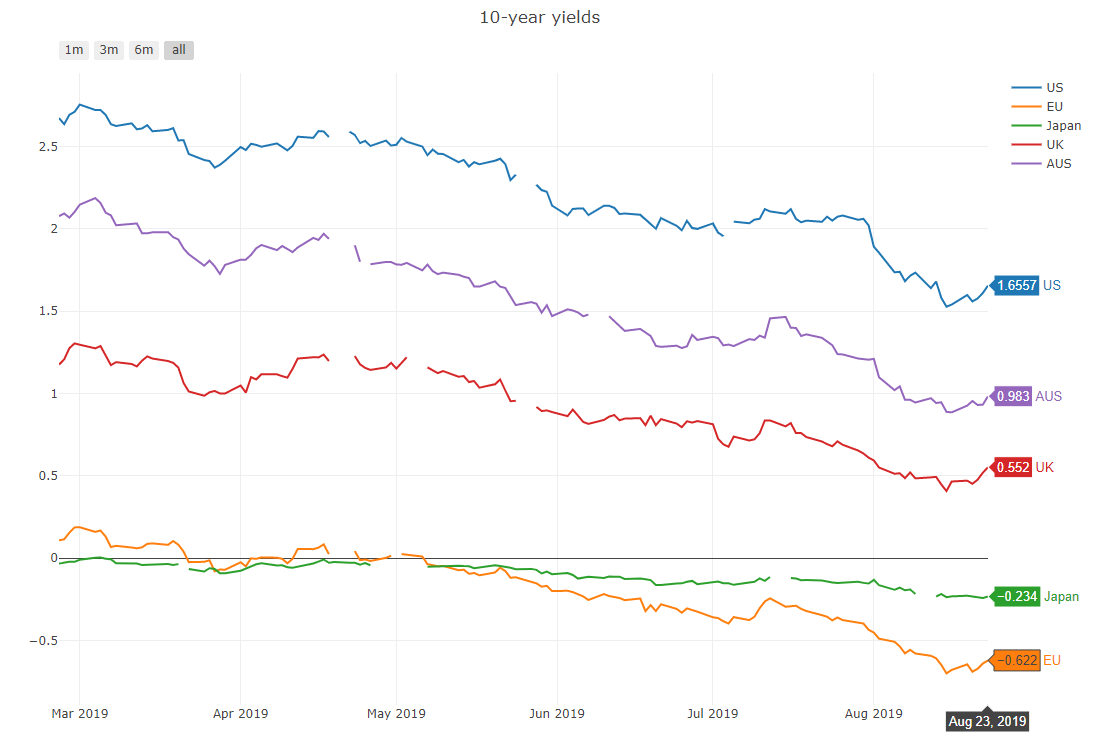 USD-Index Daily Chart (6-month)
Brent Front Month Daily Chart (6-month)
Trade Weighted Basket Hourly (two-week)
Major Currency Pairs
EURUSD Chart (Two-week)
Strategy: Support at 1.1062 for 1.1167
Short-term view:
EUR/USD support at 1.1062, MACD and RSI are looking to correct. Hence, we see a move to 1.1120, possibly 1.1167. Below 1.1062 to open 1.1019, likely 1.0950
GBPUSD Chart (Two-week)
Strategy: Resistance at 1.2243 for 1.2087
Short-term view:
GBP/USD resistance at 1.2243, MACD and RSI are topping out hence, we see a dip to 1.2141, likely 1.2087. Above 1.2243 to open 1.2306.
USDJPY Chart (Two-week)
Strategy: Resistance at 106.65 for 105.03
Short-term view:
USD/JPY has resistance around 106.65 MACD and RSI are giving mixed signals, hence, we see a move lower to 105.81 and 105.03. Above 106.65 opens 107.05-107.48.
AUDUSD Chart (Two-week)
Strategy: Resistance at 0.6800 for 0.6725
Short-term view:
AUD/USD short-term downtrend intact, we look for resistance at 0.6800 for a move lower towards 0.6725, likely 0.6650. Above 0.6800 we look for 0.6830-0.6869 in the immediate short-term.