February 26, 2018
Posted by:

range

Category:

MARKET RESEARCH
In the G10 currencies, GBP and NZD are the top gainers (up 0.50% each versus USD). The top losers are CAD and USD neck and neck with each other. In the Equities space, the Nikkei 225 has closed higher by 1.19% at 22,153.63 and the Europen equities have also opened firmer with FTSE +0.4%, DAX +0.7%, and CAC +0.4%. In the rates market, the US and Bund 10-year yields have fallen further with US 10-year at 2.86% and Bund 10-year at 0.66%. In the energy space, the Brent front month is consolidating at $67.12 after a strong finish last week. In terms of data today, there is no tier one release from Europe but we will have US New home sales at 1500 GMT. In terms of central bank speakers, we will hear from ECB Coeure at 100 GMT, Mario Draghi at 1400GMT, BoE's Cunliffe at 1800 GMT and Fed's Quarles at 2015 GMT. Looking ahead at the week, Fed Chair Powell's testimony will be the first major event on Tuesday. The US Durable goods and personal income will be the only data release of note from the US but the timetable for Fed speakers is busy. From Europe, the German inflation, Swedish GDP, Norway's Retail Sales, Euro-area inflation (flash) and unemployment will be key releases. Also, there will also be Manufacturing PMI from across the Globe. 
USD-Index Daily chart (2-month)
Brent Front month Daily chart (2-Month)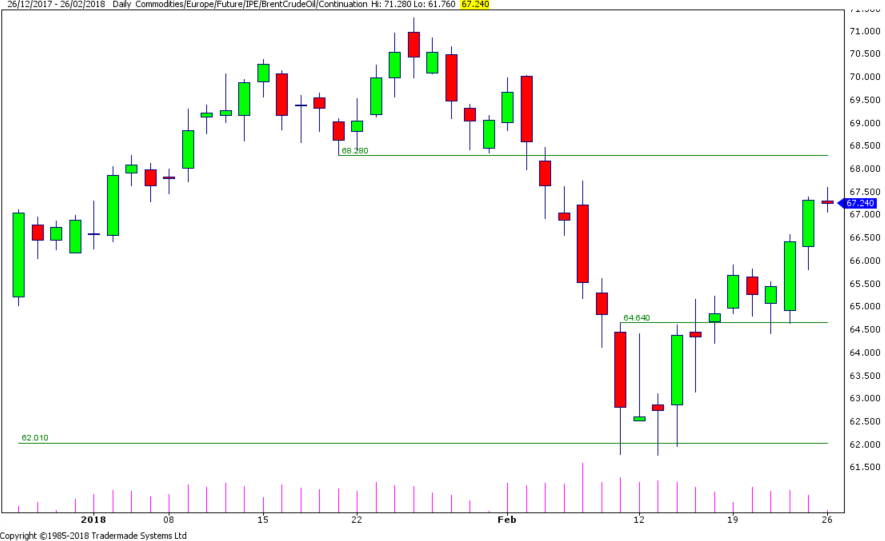 Trade weighted basket Hourly chart (1-Week)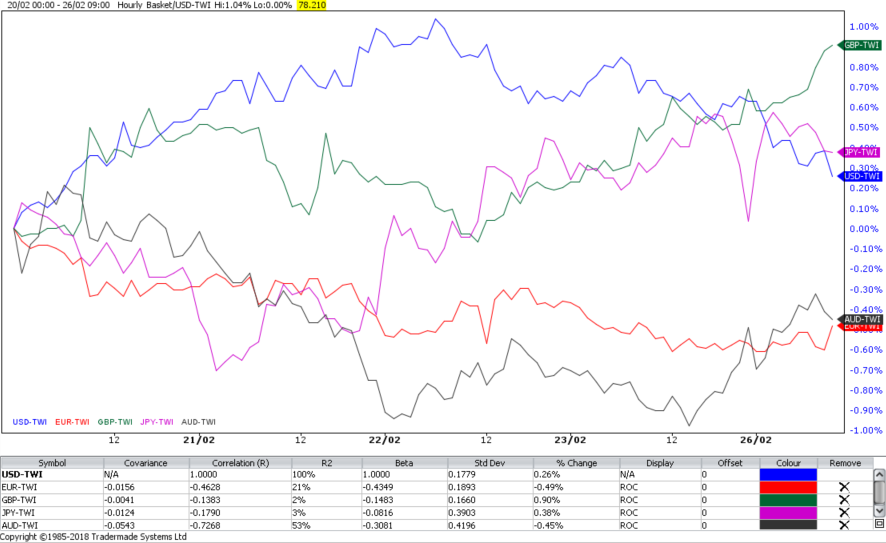 Major Currency Pairs
EURUSD Chart (Two-week)
Strategy: Support at 1.2280 for 1.2370
Short-term view:
EUR/USD is forming a potential head & shoulders base pattern and hence a break above the neckline at 1.2343 will open a bounce to 1.2370-1.2400. Below 1.2280 to open 1.2248.
GBPUSD Chart (Two-week)
Strategy: Support at 1.3999 for 1.4099
Short-term view:
GBP/USD has support at 1.3999 and moving averages are turning bullish. Hence, we expect a rise to 1.4074, possibly 1.4100 . Below 1.3999 to open 1.3933.
USDJPY Chart (Two-week)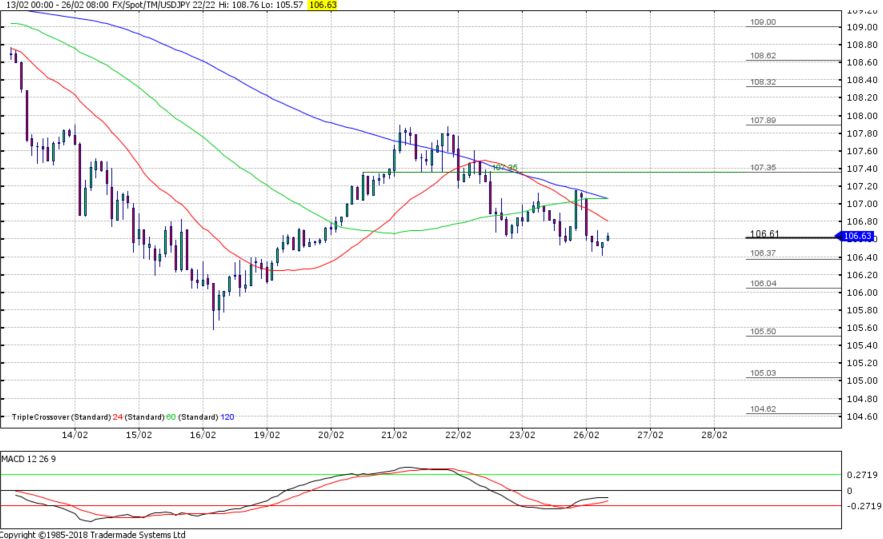 Strategy: Support at 106.37 for 107.35
Short-term view:
USD/JPY has support at 106.37 and short-term momentum is improving. Hence, we may see a rise to 107.35. Below 106.37 to open 106.04
AUDUSD Chart (Two-week)
Strategy: Resistance at .7892 for .7827
Short-term view:
AUD/USD has resistance at .7892 and moving averages are still weak. Hence, we expect a short-term dip to .7827. Above .7892 to open .7950
Cryptocurrency Overview
Bitcoin and other cryptocurrencies are choppy over the past 24 hours with; Litecoin is the top gainer at +3.2% followed by Ethereum at 0.58%. Bitcoin and Bitcoin Cash are down -1.74% and -1.98%, respectively. In the news, EU's Dombrovskis said that cryptocurrency regulation will be discussed next week.
BTCUSD Hourly Chart (Two-week)
Strategy: Resistance at $9370 for $9864
Short-term view:
BTC/USD has strong support at $9370 and MACD is bottoming. Hence we see a bounce to 9864. Below 9370 to open 9000.